Hey, gang!!
I feel so far removed from the blog world right now. Brandon and I have been vacationing down in Marco Island, Florida for the past week, so I have no idea what's going on in your lives! My Google Reader is about to burst with unread posts!
I can't wait to catch up!
Today I thought it would be fun to do a slightly different version of "What I Ate Wednesday."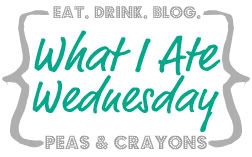 Let's call it … What I Ate on Vacation!!
(I know, so creative.
)
Breakfasts:
Our breakfasts mostly consisted of Life cereal, whole-wheat Bagel Thins, bananas, and peanut butter. My mom had kindly packed us up some groceries for the week, so that we could save a little money. Thanks, mom!
Lunches:
On the day we arrived in Florida, we made a pit-stop at my mom's house in Sarasota for a quick lunch, before continuing on our way to Marco Island.
My mom grilled up some filet mignon, and served it with potatoes, green beans, and garlic bread. Delicious!
For dessert, we ate cake that was over 365 days old!
That's right, folks … we busted out the top tier of our wedding cake!
Don't blame Brandon for the cheesy pictures … my mom and I take full responsibility for the cheese-factor.
Our original cake was made by Pastries By Design in Lakewood Ranch, Florida and it was ah-mazing.
It was a vanilla cake with vanilla buttercream and white chocolate in between the layers.
And believe it or not, after a year wrapped up in the freezer, it was surprisingly delicious!
However, that didn't stop Brandon from being a little skeptical of the whole "eating year-old cake" thing.
While at our resort (we stayed at the GORGEOUS Marriott Beach Resort … I would definitely recommend it!), our lunches were typically pizzas bought at one of their restaurants (400 Pazzis) and eaten poolside.
Both the BBQ Chicken pizza and the Hawaiian-Style pizza were delicious, and relatively affordable, in comparison to most resort-eats!
Dinners:
Dinners on vacation could be summed up in one word.
Sushi.
We didn't start out the week planning on getting sushi 4 out of 5 nights, but that's exactly what ended up happening.
And we loved every minute of it!
Dinner #1: The Crazy Flamingo.
This place is uber-casual, and honestly, the bartender who waited on us was cranky downright rude.
However, neither of us cared after we tasted our first roll.
We got the Funky Roll, the Marco, and the Nitro Shrimp Roll. All three were delicious, and we agreed that it was the best sushi we ate during the trip!
Dinner #2: Korals Sushi at the Marriott
The verdict? Good, but way overpriced. $18 for one roll? Does it come with a side of diamond earrings??
Dinner #3: Verdi's … An American Bistro.
Verdi's is a small, cozy restaurant in Marco Island. It was a bit pricey, but we had good service and delicious food.
I chose one of their "small plates" of shrimp and scallops, served with linguine in a lobster tomato gravy. Yum!!
After dinner at Verdi's, I also enjoyed a Key Lime Cupcake from Simply Cupcakes.
The owner was so nice and incredibly helpful. He even gave us tips on other restaurants to try on the island.
He said that their Key Lime Cupcake was their specialty. It's a sour cream cake with Key Lime curd filling, whipped cream frosting, and finished with sprinkles of graham cracker and lime zest!
Key Lime pie isn't my usual dessert of choice, but this cupcake was incredibly tasty. I enjoyed every bite!
Dinner #4: Sushi-Thai in Naples.
This restaurant was a recommendation from my friend, Lauren, who is my "sushi-guru." Brandon and I loved both the sushi and the reasonable prices!
Dinner #5: Tokyo Inn
This restaurant is actually a Japanese Steakhouse, but they also serve sushi. The owner of Simply Cupcakes recommended it to us, and I'm glad he did!
Since it was our last night, we stuffed ourselves silly on the delicious rolls.
Delicious, and beautiful!
I plan on writing more about the trip later this week, but hopefully this post gave you a "taste" of what we encountered while visiting Marco Island!
(Get it? Taste? I think I need some sleep …
)
Question for ya …
Catch me up, peeps! What's new??
What did you do for New Years Eve?
When you go on vacation, do you typically spare no expense? Or do you find ways to pinch a few pennies?
Anyone else ever eaten sushi that many days in a row??
Oh and P.S. I hope this goes without saying, but I wasn't paid or given anything to talk about those restaurants! That sure would have been nice, but nope, everything written was just my opinion based on our experiences!