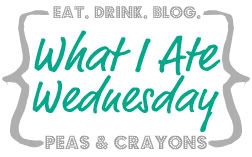 There are some days when I amaze myself with my culinary skills.
And then there are those other days.
The days when dinner looks like …
… cat food.
But I'm getting ahead of myself here. Let's start with breakfast, shall we?
Breakfast:
So recently, I have started drinking hot water with lemon first thing in the morning … before I even head downstairs for breakfast. My realtor was actually the one who turned me on to the idea. She says it's helped her digestion throughout the day. I don't know if there's scientific evidence to back this theory up, but I've been enjoying it, so I'm going with it.
At the hotel buffet, I enjoyed half a Belgian waffle (covered with peanut butter and sugar-free syrup), Canadian bacon, and some mix of sausage, peppers, and potatoes. I also had pineapple on the side.
Snack:
I am loving this Greek yogurt that comes with it's own little packet of granola. Delicious!
Lunch:
Peanut butter and banana on a whole-wheat sandwich thin, with sliced apples and cinnamon on the side.
Guess where I got the cinnamon idea? That would be my realtor again (I'm starting to wonder if she's my realtor or my nutritionist …
). She said that putting cinnamon on the apple actually keeps it from browning … plus it's just super tasty!
Snacks:
Strawberries were on sale last week at Publix. Score!
This "energy" mix was also on sale. It includes dried cranberries, dried raisins, dried apples, almonds, walnuts, sunflower seeds, and soy nuts. Just a palm-full of this stuff keeps me full for quite a while!
Dinner:
OK, so this is where the day went bad.
I found this recipe on a blog (I won't say what blog haha!) for slow-cooker pineapple chicken. The recipe called for chicken, soy sauce, teriyaki sauce, red pepper flakes, and pineapple. Everything went in the slow cooker, and the shredded chicken was served on top of brown rice.
The end result?
Not only was it the ugliest dish I've ever made, but it tasted 100% like soy sauce. Just soy sauce. Nothing else … but soy sauce. Bleck.
So if you read the blog on Monday, you know what we did to make up for the nasty dinner …
… Coldstone, baby!
I got my favorite: cake batter ice cream with brownie and cake pieces. Yum!
Disgusting dinner, forgotten. Mission accomplished.
—————————
In other news …
So my mom recently discovered this cool website called SendOutCards. She thought it was so cool that she wanted to share with me … and then I thought it was such a neat idea, that I wanted to share with all of you!
Basically with this website, you can personalize cards that then get sent in the mail to friends, family, business colleagues, etc. You can add photos to the cards, include gifts (like Starbucks gift cards!), and choose from a wide variety of different types of cards.
All of this is done online, so it's super fast and convenient. But the cards themselves aren't just "e-cards" … they are real cards that are sent in the mail! And the coolest part? They cost less than $1 a piece … and that includes postage!
If you want to check out the cards, you can visit my mom's site at: www.SendOutCards.com/jpetters. You can even send out one free card, just to see what it's like!
Disclaimer: If you decide you like the idea and you order cards through my mom's site, then she gets some small percent of the profit. But I'm not sharing this idea for her to make money … I just really think it's a cool idea!
Question for ya …
Tell me something delicious that you've eaten this week!
What do you do when a meal doesn't turn out as you had hoped?
OK fess up … who watched the season finale of The Bachelor? Thoughts?
I have to agree with Kelly Rippa who said it best when she said that the runner-up was the "luckiest girl in the world!"