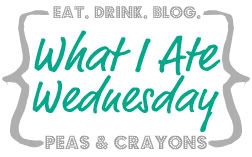 It's that time again, gang!
How's the week going for everyone else? We're having some crazy car issues in our house right now … I'm not even going to go in to it, because who really wants to hear my complaining?
But I'm very happy that the weekend is only a couple of days away!
I'm calling this post the "rerun edition" of WIAW, because you aren't going to see anything new … just the oldies but goodies!
Breakfast:
Old faithful … peanut butter and banana on whole wheat toast + coffee.
Lunch/Work Snacks:
A classic brown bag lunch: turkey sandwich, carrots, apple, yogurt, and a granola bar.
After Work Snack:
A mix of my husband's Life cereal (sorry, sweetie!) and Fiber One Honey Squares. Yum!
Dinner:
Recently, I've had several people tell me that they've tried some of the recipes I've posted. I love when people tell me this … it makes me so happy that other people are enjoying the food I'm posting about!
Therefore, I am going to tell you again about this recipe for crispy apricot pork chops. This is seriously one of my favorite recipes because it's so easy, requires minimal ingredients, and tastes amazing. So go try it, and then report back to tell me how awesome I am.
Dessert:
I posted about this Ben & Jerry's flavor a while ago. Brandon and I both love it. It was on sale the other night, so of course, I had to pick some up. If you haven't tried this flavor before, I highly suggest that you go out and buy some right now!!!
Question for ya …
Tell me something delicious that you've eaten today!
If you've tried any of the recipes I've posted, please tell me about it!
What's your favorite Ben & Jerry's flavor?