Today's "What I Ate Wednesday" should really be called WIAM, because it's my Monday eats. But just go with it, OK?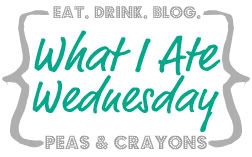 Just a reminder, the WIAW idea is courtesy of the oh-so gorgeous and super-sweet, Jenn. Love her!
Breakfast: My normal. Peanut butter and banana on whole wheat toast. Yawn.
Morning snacks: Yogurt and cocoa-roast almonds. The almonds are really great because they keep me full until lunch.
Lunch: I didn't take a picture of Monday's lunch, but it looked something like this:
Turkey on whole wheat with honey mustard and a side of veggies.
Afternoon snack: Half a bagel with peanut butter, thrown quickly down my throat before heading to the gym.
Dinner:
Shredded Chicken Fajitas. Recipe will be up tomorrow.
Dessert: A big bowl of grapes. They would have been even better if they were frozen, but they were still tasty!
——————————————————————————————————
Time to talk "Bachelor Pad!"
OK first question … for those who watch the show, WHY do you watch it?
Better question … why do I watch it??
I think I watch it because I like seeing former "Bachelor/Bachelorette" contestants again. I like seeing what they look like now, finding out who's dating who, etc.
But I really do think it's cheesy. I mean, the group "dates" aren't even dates. They're all about strategy.
Which is why Melissa took Kasey on her date, who already has a girlfriend.
Vienna and Kasey (Source)
But then Melissa threw strategy out the window and decided to give her rose to Blake. Forget the fact that Kasey would get her further in the game! The second a cute guy gives her any bit of attention, she throws all game-play out the window.
Melissa, after winning the competition.
(Source)
And THEN Melissa is actually surprised to later see Blake flirting with another girl.
I hate to say it, but this is why men often do better in these kinds of competitions. Men use their brains … women use their emotions.
Of course, that statement isn't always true …
(Source)
… Michael Stagliano was certainly acting on his emotions when he gave his ex-fiancé, Holly, the rose.
I think Michael is my favorite. He was one of my favorites when he was a contestant on Jillian's season, and he's still top on my list. He just seems like a genuinely nice guy.
The fact that he invited Erica to be one of the three girls on his date proves this fact.
At first, I felt bad for Erica because she got picked on during the competition. But when she started complaining to the camera about how some of the other girls are heavier and less attractive than her, I lost all sympathy!
Question for ya …
Tell me something delicious that you've eaten today (or Monday, for that matter, since I wrote about my Monday eats!
).
If you watch "Bachelor Pad," why do you watch it? What do you like about it?