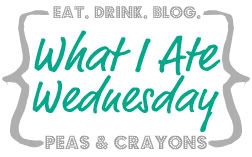 Well, it's Day #5 of living in a hotel.
Only about 85 left to go.
I've had some people asking how I'm going to cook while living in a hotel. Great question, my friends! I've been wondering the same thing myself!
The bad news is, I don't have a stove.
The good news is, I do have a refrigerator …
… two burners, and a microwave.
I also have my trusty slow cooker, so be prepared for many many slow cooker recipes in the upcoming months!
While we're living in the hotel, we're really wanting to try to save as much money as possible (because in case you didn't know, buying a house costs a lot of money
). Fortunately, the hotel has free breakfast every day (and coffee!
) and free dinners Monday through Thursday.
So the plan is to supplement the hotel's free food with minimal groceries.
For example … here's a typical day of eats since moving into the hotel!
Breakfast:
The bread at the hotel pretty much stinks, so I bought some whole-wheat bread at Publix … buy 1, get 1 free!
I combined that with the hotel's peanut butter and banana to create my favorite breakfast!
(We also managed to sneak out some extra milk cartons after breakfast.
)
Lunch:
Brandon ordered pizza the other night, so I had a leftover piece for lunch. Healthy? No. But I didn't want it to go to waste! (Plus, it was pretty tasty!)
Snack:
After my afternoon workout, I enjoyed some chocolate Greek yogurt. Dee-lish!
Dinner:
I forgot to take a picture, but it was "taco night" last night at the hotel. So I had two soft tacos with ground beef, salsa, and guacamole. I also had a side salad made with romaine lettuce.
Dessert:
When I met our realtor the other day, she took me to lunch at Mimi's Café. And evidently when someone goes to Mimi's Café for the first time, that person is given two free muffins to take home!
They gave me a chocolate chip muffin and a red velvet cake muffin …
… and they were both HUGE!
So I cut them both in half, and eating half at a time is plenty!
Yum!
————————-
Also, remember how I was talking about couponing recently?
I may not be an expert yet, but I was pretty excited to leave Publix the other day with this kind of savings:
Yahooo!!
I love Publix because they always have lots of "buy 1, get 1 free" deals. So here's how I saved $16:
1. Buy 1, get 1 free whole-wheat bread.
2. Buy 1, get 1 free toothpaste.
3. I picked up a "blinkie" coupon (those would be the coupons that you see in dispensers with blinking lights at the store!) for $1.00 off two Healthy Choice frozen dinners.
4. Buy 1, get 1 free laundry detergent … PLUS I had a $1 off coupon!
All of these items were things I needed to buy anyway, so I was pumped to save that kind of money! I'm sure my couponing friends could tell me 100 other ways to save, but this is still a learning process for me!
After my shopping trip, I quickly put my new laundry detergent to good use!
Since we're staying at a hotel, I'm having to use their coin-operated machines …
… which are all $1.25 per load!
Anyone else think this is highway robbery?? If I do just two loads a week (lights and darks), that's $5 to wash and dry them. But I guess you take the good with the bad, right?
At least I was able to get wireless internet in the room, so I could blog while waiting on my clothes to dry! Silver-lining, and all that …
Question for ya …
Anyone ever had to use coin-operated laundry machines? How much did it cost?
Any tips for cooking in my tiny hotel room?
(Not burning the hotel down would probably be a good place to start … )
What's the best thing you've eaten this week??
For me, it was easily that red velvet cake muffin!