Before I start today's post, can I just say … seriously?
It's going to be a lonnngg winter, ladies and gentleman.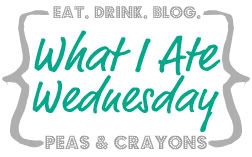 Normally on Wednesdays for Jenn's "WIAW party," I share what I've eaten the previous day. But guess what? Tuesday's eats were pretty darn boring, since this girl hadn't gotten to the grocery store. Let's just say that copious amounts of peanut butter and jelly were consumed.
So today, I thought I'd finally share my family's recipe for "Thanksgiving noodles," since I've been talking about it for weeks now!
Of course, they're not really just "Thanksgiving noodles," since we typically make them for Christmas, Easter, and Arbor Day, as well (OK, I'm fibbing on that last one.).
I ate a lot of delicious things this Thanksgiving …
(Click here for the pumpkin cake recipe)
… but my favorite dish, by far, was great-grandmother's Thanksgiving noodles!
Thanksgiving Noodles
Servings: A lot.
Ingredients:
4 eggs
4 tbsp Carnation Evaporated milk
salt and pepper
several cups flour (this isn't a very precise recipe! )
2-3 quarts chicken broth (enough to fill a large pot)
1 celery stick
1 stick butter
leftover bits of chicken or turkey meat (from your Thanksgiving turkey or a rotisserie chicken)
chicken bouillon cubes, as needed
Directions:
Beat together 4 eggs, 4 tbsp Carnation Evaporated Milk, and ½ tsp salt
Add several cups flour until dry (pie dough-like), but still workable by hand. You don't want it to crumble, but it needs to have as much flour as possible.
Roll dough out (as thin as possible) onto a floured board or clean towel. Let sit a bit to dry and then cut into narrow strips.
Put noodles in a large brown paper bag with some flour and shake it up. Lay the noodles out on clean, floured dish towels to dry for several hours. If not using that day, store in paper bag in refrigerator.
Heat chicken broth with celery stick and 1 stick butter. Add noodles and cook slowly until tender.
Add turkey or chicken pieces (you can also add some of the juices from the turkey if you have them … it adds more flavor).
Add salt and pepper to taste. Add chicken bouillon cubes, if it needs extra flavor.
As you can tell, this recipe isn't very precise. Evidently great-grandmother Shideler was more of a "cook by instinct" kind of gal.
Unfortunately, this gal isn't quite there yet. So I tried to make it a little more precise for those who are still new to cooking, as I am!
We miss you, great grandmother. Thanksgiving just isn't the same without you!