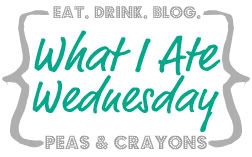 It's time for another WIAW party, hosted by the beautiful Jenn!
Breakfast:
The regular … peanut butter and banana on whole wheat toast.
Plus pineapple. Yum!
Lunch:
Healthy Choice frozen dinner with chicken, pineapple, veggies, and rice. Eaten with carrots, Greek yogurt, and …
… sautéed spinach!
I had gotten tired of spinach salads, so I wanted to mix it up a little. I heated up some truffle oil in a small skillet, and then added the spinach with some garlic powder and red pepper flakes. It cooked down nicely and was delicious!
Dinner:
Southwest Chicken Skillet. Recipe found below. This dish was super flavorful, perfectly cheesy, and pretty darn healthy!
(Note: I'm sure some form of sugar was also consumed that evening … likely a piece of chocolate or an ice cream sandwich.
)
—————————
OK so let's talk about this recipe.
And let's talk about the fact that from this point forward, I will only be cooking with my slow cooker while we're still in this hotel room.
Here's the deal … the hotel room kitchen has two burners.
So I figured I could cook any dishes that didn't require an oven.
But I ran into two problems:
1. The burners, even when turned to their highest temperature, only get lukewarm.
2. My large pan does not fit on just one of their tiny burners.
Hmm.
But since I had already bought all of the ingredients (and I didn't have a back-up plan), I decided to press forward anyway.
The result?
A delicious dinner …
… that took over an hour to make.
But here's the good news, my friends! If you are fortunate enough to actually have a real kitchen with real burners, this meal should only take you 15 minutes. Max.
Southwest Chicken Skillet
(Modified from this recipe)
Serves 4
Ingredients:
1 tablespoon vegetable oil
About 1.25 lbs boneless skinless chicken breasts, cut into small pieces (I usually do 1 inch or less)
1 bag frozen vegetables
1 can (15 ounces) black beans
1 cup salsa
1 cup shredded Cheddar cheese
Whole-wheat tortillas for serving (optional)
Directions:
Rinse and drain black beans.
Cut chicken into small pieces.
Heat vegetable oil in a large skillet over medium-high heat. Add chicken and cook for several minutes, until chicken is cooked through.
Reduce heat to medium. Add frozen vegetables, black beans, and salsa. Cover and cook for about 6-8 minutes, stirring occasionally, until the vegetables are cooked through.
Add shredded cheese onto the mixture. Cover pan and let cook for another 1-2 minutes, until cheese is melted.
Serve as-is, or with tortillas.
It may have been a total pain to make in our hotel room, but I promise that in the comfort of your own home, you probably couldn't make an easier dinner. And the final product really turned out delicious.
So go try it out! And then feel free to invite me over for dinner, because I won't be attempting this again anytime soon.
Question for ya …
Ever had a similar experience, in which a simple dinner took way longer than planned?
Tell me something delicious you've eaten this week!
Anyone have any great slow cooker recipes to share? Because that's all I'm going to be making in the upcoming month!!