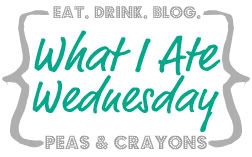 It's that time again!
Breakfast:
A slight twist to my normal peanut butter and banana on whole wheat toast. This time … it's peanut butter and banana on a toasted blueberry bagel thin! Watch out, people … it's getting crazy around here!
Work Snacks:
That apple was the size of my head, by the way.
Lunch:
Leftover "Chicken Cacciatore" from dinner the night before. Gotta say … I enjoyed the leftovers more than the actual dinner. But more to come on that another day, when I share the recipe!
After Lunch Snack:
These are probably my favorite chocolates ever. Thanks, mom, for the awesome Christmas gift!
(Source)
So I go to pretty much the coolest dentist ever. At the end of each visit, you are given an Ottis Spunkmeyer cookie before you head out the door! Sorry that I couldn't show you a picture of my actual cookie … I had already eaten it by the time I got home.
Dinner:
Chicken breasts, mashed sweet potatoes, and a spinach salad.
The chicken was actually a last minute decision, after receiving these in the mail:
My awesome friend, Lauren, sent me these spices as a Christmas gift! Isn't that an awesome present??
After opening the package, I changed up my dinner plans. I just rubbed the "California Citrus Rub" on some chicken breasts, browned them in a skillet with olive oil, and then baked them at 350 degrees to finish them off. Delicious!
And P.S. I cannot wait to try that Vanilla Bean Sugar on some French toast! Yum!!
Question for ya …
Tell me something delicious that you've eaten today (or this week!)!
Is your dentist as cool as mine?
Anyone gotten any early Christmas presents in the mail yet?? If so, have you opened them or waited for the "big day?"