Happy Hump Day, friends!
It's been almost two weeks since Brandon and I moved to Atlanta. And believe it or not, we have not yet strangled each other, despite staying in a tiny hotel room together.
And speaking of our tiny hotel room …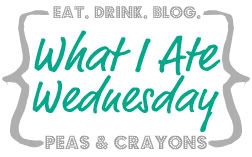 … it's another WIAW, hotel version!
Props, as always, go to Jenn for hosting WIAW!
Breakfast:
I've been continuing to bring my own bread down to the hotel's breakfast buffet, then I add their peanut butter and banana. Delicious, as always!
Snack #1:
I am loving this yogurt!
Lunch:
Leftover shredded BBQ beer chicken (see recipe below!), served over spinach leaves with a little low-fat ranch and extra BBQ sauce on top. So. good.
Snack #2:
An apple with peanut butter (also from the hotel, but not pictured).
Dinner:
This is an example of a hotel dinner. It was "Italian Night," so we had spaghetti and meatballs, breadsticks, and salad. Definitely nothing spectacular, but it's free, so I'm not complaining!
Dessert:
OK now here's where things get tricky, my friends. I have any incredibly difficult time turning down freshly-baked cookies. And the hotel serves warm chocolate chip cookies almost every night after dinner. This is going to be an issue, if I don't start learning to say "no, thank you!"
————————————–
Now let's discuss this recipe. This was the first meal I made in the hotel room, and I was pretty excited about it!
I got the recipe from Jessica at How Sweet It Is, one of my favorite recipe blogs. I've made shredded BBQ chicken in my slow cooker before ("recipe" here), but I was intrigued by Jessica's addition of beer to the mix.
I had to make some changes, just based on my available ingredients, but the final product turned out to be delicious!!
Slow-Cooker BBQ Beer Chicken
Modified from this recipe.
(Serves around 8)
Ingredients:
about 3 pounds boneless, skinless chicken breasts (I used 5 breasts)
1 onion, sliced thinly
1 teaspoon garlic powder
1/2 teaspoon salt
1/2 teaspoon pepper
10-12 ounces of beer (I used Killian's Irish Red)
32 ounces of barbecue sauce (I used Sweet Baby Ray's)
Whole-wheat buns (or you can serve it on bread, or even over a salad, like I did!)
Directions:
Slice onions (Note: I liked them sliced, but Brandon has requested that next time I chop them into smaller pieces. Your call!). Add onions to the bottom of the slow cooker.
Place chicken breasts into the slow cooker. Season with garlic powder, salt, and pepper.
Add beer and BBQ sauce to the slow cooker (Note: If you use a thinner BBQ sauce, as Jessica recommends, use less beer. My BBQ sauce was thicker, so I added more beer).
Cook on low for about 8 hours.
After about 8 hours, take the chicken out, place in a large bowl, and shred the meat. Add it back to the slow cooker and stir. Let the chicken sit in the slow cooker for another 15 minutes or so before serving.
I loved the extra punch of flavor that the beer added to the BBQ sauce!
This recipe makes a TON of leftovers. We ate it for lunch the next two days, plus I put two full containers into the freezer for later use!
One warning. The mixture was a little sloppy on the first night, because of all of the delicious BBQ sauce and beer in the cooker. But I didn't think it was a big deal. And the leftovers aren't messy at all, because the chicken has plenty of time to absorb all of the yummy juices!
Question for ya …
(As always) Tell me something tasty that you've eaten this week!
We went to a local restaurant called Aqua Terra Bistro, and I had barbequed pork tenderloin with "creamy smoked Gouda polenta" and a "warm apple blossom" with caramel and ice cream. Best meal I've had in a LONG time!!
Ever cooked with beer?
How's your week going??