Heck of a name for a blog post, no?
OK before we get into my daily eats from Monday, can we talk about Pinterest?
I have never gone on Pinterest because honestly, I get overwhelmed at all of the social media sites these days. Facebook and blogging is about all I can handle … I haven't even attempted Twitter yet (which basically means I'm living in the dark ages, right?).
So imagine my surprise when I looked at my site stats the other day, and noticed that I was getting a lot of hits on my blog via Pinterest!
Unbeknownst to me, people have been "pinning" pictures from my site onto their "boards" (I still don't get this whole concept, so forgive me if I'm using the wrong terms!)! If you click here, you can see all of the pictures from the blog.
I don't know whether I should be excited or freaked out! I think it's cool that people are sharing food pictures from my blog, but it also made me realize that they could take any pictures from my blog and post them wherever they want!
So for those of you who are more tech-y than I am, tell me your thoughts. If you have a blog, are you concerned at all regarding your privacy? I realized a long time ago that I was putting myself out there for all to see, but I guess I didn't realize to what extent until now!
——————————–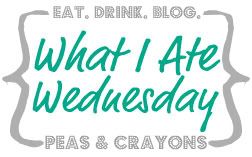 Well let's move on to happier topics, shall we?
Breakfast:
I changed things up today and went for oatmeal. To my 1/2 cup oats, I added: 1/2 cup milk, 1/2 cup water, about 1/2 tbsp brown sugar, a sliced banana, and a dollop of peanut butter. Warm and comforting!
Work Snacks:
I told you guys last week that I didn't like the Chobani Cinnamon Apple yogurt. But I took a commenter's advice and tried another flavor, and I loved it!
I guess I'm on the "Chobani bandwagon" now, huh?
Lunch:
Leftovers of our Sunday night dinner … Orange Peel Shrimp and white rice. Unbelievably good. More on this recipe below!
Pre-run Snack:
Whole-wheat tortilla pieces covered in peanut butter. Multiply the picture above by 2, because I was still starving after one piece, so I went back for round 2!
Dinner:
Homemade "pizza" (flatbread, tomato sauce, few pepperoni, and mozzarella cheese, baked for 8 minute at 425 degrees) and carrots.
Dessert:
Ice Cream Sandwich (not pictured … use your imagination!).
——————————–
Let's talk Chinese food.
Jenna at Eat, Live, Run posted this recipe for Orange Peel Shrimp recently, and I'm so glad she did!
One of Brandon's favorite Chinese dishes is Orange Chicken, so I thought this recipe would be a slight change to an old favorite!
I made just a couple of changes to her ingredients, so I'm going to list what I did here:
Orange Peel Shrimp
(slightly adapted from this recipe)
Serves 4
Ingredients:
48-56 "large" shrimp (they call them large on the bag, but they're still pretty small, in my opinion!)
2 tsp minced garlic

8 scallions, finely chopped

2 oranges, zested and juiced

6 tbsp orange marmalade

1/2 cup soy sauce

1/4 tsp red pepper flakes

1/4 cup cornstarch

4 tbsp vegetable oil, divided
4 servings of cooked white rice
I followed Jenna's directions almost exactly, so go to her recipe to check them out.
But just a couple of notes you may find helpful:
- Prep all of your ingredients first. Zest and juice the orange (into separate bowls), chop the scallion, peel the shrimp, put soy sauce and marmalade in a bowl, etc. The cooking itself goes quickly, so it helps to have everything prepped.
- I added salt and pepper to the cornstarch when I covered the shrimp.
- My sauce took closer to 8 minutes or so to thicken, whereas Jenna's only took 5 minutes.
This recipe turned out to be WAY easier than I expected, plus it was incredibly tasty. The shrimp had just a slight crunch, and the sauce was super flavorful!
Question for ya …
Thoughts on Pinterest or social media sites in general?
Tell me something tasty you've eaten this week!
Favorite Chinese dish?