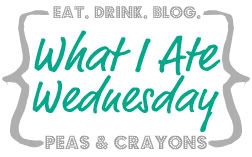 I can't believe it's Wednesday already! This week is passing pretty quickly … probably because I'm back at work and we already have lots to do!
As I mentioned in last week's post, Jenn at Peas & Crayons (NOT "Peas & Carrots, by the way … despite what I wrote last week!
) has started this "What I Ate Wednesday" trend. So here's "what I ate" yesterday.
Breakfast:
Sorry, I forgot to take a picture! But I ate my standard breakfast that I eat 85.32% of the time (that's an exact measurement, by the way): whole wheat toast, peanut butter, and a sliced banana … with coffee and milk on the side, of course!!
Snacks:
I did remember to take a quick pic of my snacks before I packed them this morning.
I also had half of a donut both in the morning and in the afternoon …
I can't help myself when Schuler's donuts are around. They mysteriously move from the box to my belly. It's the darn-dest thing.
(No, I'm not wearing a baseball cap at work … this was another "Schuler's" day … after Brandon and I ran our 5k. I enjoyed every morsel of that crème-filled treat from heaven!)
Lunch
Before the lecture on the "dangers of frozen dinners" begins, let me just say … at least this particular meal has no preservatives AND is made with whole grains. And they are easy on days when I don't have leftovers to bring for lunch.
OK, now if you still want to lecture me, go for it.
Dinner
For dinner, I made a super-simple meal of shrimp, brown rice, and broccoli.
After cutting up my broccoli, I stuck it in the microwave in a shallow bowl of water for a couple of minutes.
Then I "shocked" it in some ice water (this is my "lazy girl's" way of blanching and shocking veggies … sometimes, I just don't want to deal with an extra pot!).
In the meantime, I started cooking my brown rice.
I just cooked it according to the box's instructions, except I left out the butter.
While the rice was cooking, I put a tablespoon of olive oil in my pan and heated it on medium-high heat. After a few minutes, I added a little minced garlic.
Less than a minute later, I added my shrimp (seasoned with S & P) …
… and after just a couple minutes of cooking, I added my broccoli.
A few minutes later, the shrimp were cooked, the broccoli was warmed, and the rice was done cooking.
See? Super-simple.
I also added a little soy sauce to my bowl, just for extra flavor.
After dinner, I ate some vanilla wafers to satisfy the sweet tooth. We have plenty left in the house after making the mini cherry cheesecakes last week!
————————————————————————————————
And now, it's trashy TV time!!!
OK, so fess up … who else watched "Bachelor Pad?"
I'm embarrassed to say that I watched it, but I did. It's like a car accident … you know that you should keep going and ignore what's happening, but you can't help but slow down and watch.
So here are a few of my thoughts from the episode. I'd love to hear your thoughts … if you're willing to admit that you watched!
1. Jackie and Ames … whoa, that was quick! What did they do? Introduce themselves and then immediately start making out?? Or maybe they even skipped that first step? Either way … put the brakes on, people!
2. Anyone else think Kasey is totally getting used by Vienna? Oh, all of America thinks so? OK, just checking.
3. I really like Michael Stagliano. I liked him on Jillian's season, and I still like him. He seems like a genuinely nice person. Therefore, I do not like Holly for making him sad.
Holly, what were you thinking?!
4. Erica Rose is squeezing every last drop out of her 30 seconds of fame. I'm pretty sure I've seen her on like 5 random reality shows. Erica, take off the tiara, take out the hair extensions, and find yourself a real job! I'm sure you're not as bad as you appear on TV, but you aren't doing yourself any favors by continuing the "princess" charade!
5. Wow, Justin … way to keep it classy! This makes dramatic exit #2 for Mr. "Rated R", right?
Those are my thoughts. Can't wait to hear some of yours!
Question for ya …
Tell me something delicious that you've eaten today!
What did you think of "The Bachelor Pad?" What other shows are you watching right now?