Good morning! It's Wednesday and that means …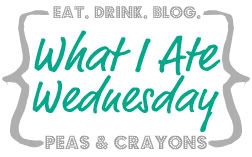 And as normal, I'm writing about a day other than Wednesday. This week I'm going to be sharing my Monday eats … and I'm proud to say that they were actually pretty healthy!
Breakfast:
The normal. PB and banana on whole wheat. (The red things are gummie vitamins!)
Work Snacks: A juicy apricot + a granola bar.
Lunch:
Leftovers from Sunday night dinner. Brown rice with broccoli and shrimp. The broccoli and shrimp were cooked in a little olive oil, then I added a mixture of cornstarch, soy sauce and water. I let it thicken up before serving over the rice. It was better on Sunday night, but still pretty good for lunch on Monday.
After work snack:
Slice of toast with peanut butter, eaten quickly before heading to the gym.
Dinner:
Salad topped with salsa and a little ranch dressing. Looks gross, tastes great!
A personal "pizza" … made on a whole wheat tortilla. I topped it with marinara sauce, a mixture of mozzarella and parmesan cheese, sliced red onion, and chopped tomato. Baked at 425 for only about 6 minutes. Yum!
Desserts:
I have been loving watermelon this week. I bought a seedless one on sale, and it's SO good! And I love Skinny Cow ice cream sandwiches. I don't care what anyone says about them!
———————————————————————————————
And now, on to "Bachelor Pad!"
Monday night's episode seemed to be a series of one awkward moment … after another … after another! For me, it became (almost) too painful to watch! But I toughed it out, so that I could talk about it on my blog today. The sacrifices I make for you Bachelor fans!
Awkward Moment #1
Watching the guys prance around in speedos while waving "spirit fingers" through the water.
OK, so it was totally hilarious … but still pretty awkward!!
Awkward Moment #2
The kiss between Jake and Erica. So awkward. No one wants to see that.
Awkward Moment #3
Michael and Holly and their awkward serenade by Bret Michaels.
But I give Bret credit … at least he admitted that it was going to be awkward!
Awkward Moment #4
In contrast to Bret Michaels, Kasey did not seem to think it was awkward when he sang to Vienna. But it was … bad. Very bad. Very very bad.
Awkward Moment #5
Last but not least … the horribly awkward moment when Kasey went to give the "promise ring" to Vienna. When she said, "I really hope this isn't an engagement ring!" … ouch. That's gotta hurt.
Question for ya …
Tell me some of your good eats!
If you watch "Bachelor Pad," which moment won the "Most Awkward" award for you??