First of all, thank you all SO much for your suggestions and comments on Monday's post about my lovely shin splints. After talking to my trainer friend and reading all of your suggestions, I'm going to take a couple weeks off running and just do some cross-training. Then I'm going to go to a running store he suggested (which allows for returns within 2 weeks) and look at possibly getting some new shoes/inserts. So we'll see how that goes!
Man, do any other runners sometimes wonder if they are crazy?! I know running can be a really healthy activity, but it can also lead to so many different types of injuries! Since I've started less than a year ago, I have felt pain in: the top of my foot, my heel, my calves, my shins, and my knees. I can say that I've been blessed to not experience any major injuries … but, seriously? Things seems a lot simpler when I stuck to my elliptical!
But I'll tell you what, it's all worth it when you experience those "good days" and get that running high. And there's nothing like the endorphins you have when you cross a finish line! It beats any sugar-high that I've ever had!
OK but back to the main topic of conversation for the day …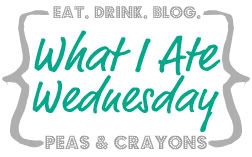 As always, thanks to the lovely Jenn for hosting the event!
Breakfast:
Whole-wheat bagel thin, a banana, peanut butter, and coffee. And you can't forget my gummy-vitamin.
Snacks:
An apple + a serving of:
I've eaten fresh edamame before, but never dry-roasted. It was quite tasty and filling!
Lunch:
Pork tenderloin chili, with crackers on the side. This innocent-looking bowl would be the cause of my dragon-mouth. But if you're brave enough, check out the recipe below.
Dinner:
Mini pizza made on a flatbread + a salad with a homemade balsamic vinaigrette. Yum!
Dessert:
Yes, those little jewels are a couple of Buckeyes (peanut butter balls dipped in chocolate, if you're living in outer space and didn't know!). Brandon's grandma and a group of women in town make these every year as part of fundraiser. And she always gives us two containers full. I've eaten about 521. Brandon's eaten zero. Darn him and his restraint!
——————————–
I found this recipe for Pork Tenderloin Chili in my "Everything Healthy Slow Cooker Cookbook." I made just a couple of changes from the original recipe, and we both really enjoyed it. However, we also agree that next time, we want to make a few more changes … including bringing down the level of heat so that we can still feel the roofs of our mouths the next day.
So I'm going to share what I did this time, and then I'm going to add my recommendations to make it even better!
Slow-Cooker Pork Tenderloin Chili
(adapted from the "Everything Healthy Slow Cooker Cookbook")
Serves 4-6
Ingredients
1 tbsp vegetable oil
1 pound boneless pork tenderloin, cubed (make your pieces pretty small, because you don't want to try to swallow a huge chuck of meat)
1 large sweet onion, diced
1 tsp minced garlic
1 poblano chile, diced and seeds removed
1 jalapeño pepper, diced and seeds removed
1 tsp cumin
1 tsp dried oregano
1 cup chicken stock
15 oz. canned crushed tomatoes
2 tsp ground cayenne pepper (I think this is what nearly killed me … )
Directions
Cut up all your vegetables and pork.
Heat the vegetable oil over medium-high heat in a large skillet. Add the pork and cook for a couple of minutes. Then add the onion, chiles, and garlic. Cook (stirring occasionally) until the pork is no longer pink. If there's any access fat, drain it (I didn't have any).
Put everything from the skillet into the slow cooker. Add the remaining ingredients. Stir.
Cook on low for about 8-9 hours.
Serve with tortilla chips or crackers.
I really liked using the pork in this recipe. I'm still a fan of ground beef, but this was a nice change.
However, in order to make this dish even better, here are my suggestions:
1. Unless you really like spice, reduce the chili powder. I would say 1 teaspoon would be sufficient!
2. Add fresh or frozen corn.
3. Add a can of black beans.
4. Increase the amount of chicken stock and crushed tomatoes (about 1.5 cups chicken stock and 20-24 oz. crushed tomatoes … because if you add corn and beans, I don't think you'd have enough liquid with the original recipe).
If you try this recipe (or any of the other recipes I post, for that matter!), let me know your thoughts! And if you have your own recommendations to make the chili even more delicious, I'd love to hear those, too!!
One final note before I leave you … anyone watching "The Bachelor???"
(Source)
There are no words.
Question for ya …
As always, tell me something delicious that you've eaten today!
Are you watching "The Bachelor?" What are your thoughts so far?
Personally, I'm a fan of Kacie B.