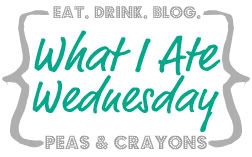 Hey gang! I missed out on the fun last week, but today I'm back for another lively addition of WIAW, hosted by the lovely Jenn at Peas & Crayons!
Breakfast:
You know. The norm. It's funny because I swear I don't eat peanut butter and banana every day … it just seems like every Tuesday, which is the day I normally document my eats!
Mid-day Snacks:
Lunch:
A special soup, which I'll be sharing the recipe for later this week!
Why's it so special?
Because it's my mom's recipe, and this was my first time making it. Thanks, mom!
Pre-workout snack:
Nope, your eyes aren't playing tricks on you. That smoothie is orange.
I had a little leftover pumpkin left from another recipe, so I decided to attempt a pumpkin pie smoothie!
This smoothie was inspired by Julie's recipe. But I changed things up a little.
Pumpkin Pie Smoothie
(Serves 1 hungry girl)
1/2 frozen banana
1/2 cup milk
1/2 of a 6 oz. container of vanilla yogurt
3 tbsp canned pure pumpkin
Several dashes of cinnamon
A dash of nutmeg
1 Splenda packet (this is optional … I threw it in last minute)
Several ice cubes
This was pretty darn tasty, I must say!
And you'd think I'd be sick of pumpkin by now … but nope, not yet!
Dinner:
A spinach salad (forgot to take a picture!) + this personal-sized pizza! I buy packages of flatbread in the bakery section of my grocery store, and then I add tomato sauce, mozzarella cheese, and pepperoni. Bake at 450 degrees for just 6-7 minutes, and it's the perfect dinner for one!
Dessert:
One of the delicious (and fairly low calorie!) cookies that I made the other night. Recipe to be posted soon!
Question for ya …
Tell me something tasty that you've eaten today!
Tell me a food that you eat all the time, but you never get sick of!