Happy Wednesday, my friends!
Has anyone else been feeling crazy busy recently? I've come to the conclusion that working two part-time jobs is more challenging than working one full-time job! But never fear … I've still found time to prepare another tasty recipe to share with you guys.
I know you'd just be heart-broken if you had to go one week without a slow-cooker recipe coming from this blog!
But first …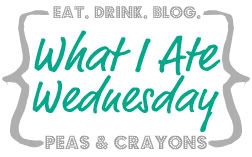 Continued props to Jenn for hosting the shindig!
Breakfast:
Peanut butter and banana on a whole-wheat English muffin. I also had the rest of the banana with some extra peanut butter on the side. I need to find some bigger whole-wheat English muffins … these miniature ones just don't cut it for me. I was hungry about 2 hours later … not cool!
Snack #1:
Another Luna protein bar. I need to eat them while I can … Brandon keeps stealing them from me. I guess he hasn't figured out yet that I don't like sharing my food.
Lunch:
Sliced kiwi + a combination of shredded rotisserie chicken, brown rice, black beans, and a little Mexican cheese. I also added some salsa after taking the picture. So good and so easy!
Snack #2:
Organic vanilla yogurt, topped with Kashi Go Lean Crunch and blueberries.
Dinner:
I didn't get my green veggies in that day, but I sure got my orange ones!
I "baked" a sweet potato in the microwave, and topped it with a little butter and brown sugar and lots of cinnamon. I added some chopped carrots on the side.
Dessert:
I finally broke down and bought some Peanut Butter & Co. peanut butter at the store the other day. They didn't have the white chocolate version, which is my favorite, so I decided to try the dark chocolate instead. It's delicious, but I think I'll be able to show restraint with this jar … whereas with the white chocolate peanut butter, restraint doesn't exist!
————
So I know it's May and it's about hot out and so we all want to eat nothing but salads, right? Well, too bad. Because I am not a girl who can just eat salads all day, every day. So turn up the air conditioning, break out the fuzzy gloves, and let's all enjoy a nice, hot bowl of vegetarian chili!
Slow-Cooker Vegetarian Chili
Makes 6-8 servings
(Modified from this recipe)
Ingredients:
2 tsp. vegetable oil
1 large onion, diced
2 stalks celery, diced
2 carrots, diced
1 tsp minced garlic
1 green bell pepper, diced
2 tbsp. chili powder
2 tsp. ground cumin
1/4 tsp. red pepper flakes
3 cups butternut squash, peeled and diced
1 (29 oz.) can crushed tomatoes
2 (15 oz) cans red kidney beans, rinsed and drained
1 (15 oz) can black beans, rinsed and rained
1 cup frozen corn
1/2 cup water (or use vegetable or chicken broth)
Brown rice for serving (optional)
Shredded cheddar cheese (optional)
Directions:
Chop up your onion, celery, carrots, and green pepper (Note: I did this the day before I made the chili, because I knew I wouldn't have time the following morning).
Heat the vegetable oil in a large skillet over medium-high heat. Add the onion, celery, and carrots. Sauté the vegetables until they start to soften (4-5 minutes). Then add the garlic and green pepper and sauté for another couple of minutes.
Add chili powder, cumin, and red pepper flakes to the pan. Stir everything together. (If you're preparing your ingredients the day before, pour the contents of the pan into a storage container and stick in the fridge. Otherwise, it will go straight into the slow cooker).
Dice up your butternut squash (I used Meg's technique for easy cutting … I highly recommend checking our her vlog!).
Put the butternut squash, sautéed vegetables, tomatoes, beans, and corn in the slow cooker. Cover and cook on low for about 6-7 hours.
Serve over rice with shredded cheese on top, if desired.
This was a super flavorful and filling alternative to traditional meat-based chili.
I loved the subtle sweetness that the squash added … so good!!
Question for ya …
Best thing you've eaten this week?
Hands down, my meal at Flip Burger. Specifically, that Nutella Milkshake!
Most boring thing you've eaten this week?
Ever cooked with butternut squash? Any favorite ways to prepare it?