Hi again, everyone!
Hope everyone is having a good week. Ours has had its ups and downs. Addie and Brandon were sick last week, and they're both still recovering. Plus, Addie has decided to start "practicing" all over her new skills (crawling, sitting up, etc.) in the crib during naptime.
As any mom knows, naptime = mommy time. It's the time when I get things done around the house, shower, do my Bible study, blog, and veg out for a few minutes. So when baby isn't napping properly, mommy isn't the happiest of campers!
All that being said, my eats from yesterday were more like random snacks than meals. And when I'm feeling emotional and/or stressed, I have a tendency to reach for the sweets. As you'll soon see …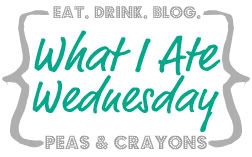 (Hosted by Jenn!)
Breakfast: English muffin with peanut butter
Snack: Greek yogurt with granola
Lunch: A brownie. Or two.
Judge me all you want. Some days just require chocolate in place of vegetables. And protein.
Snack: An apple
Snack: A cup of noodle soup
Dinner: Leftover beef enchiladas.
These enchiladas are likely to become a new favorite around our household! More on them below.
Dessert: A bowl of cookies & cream ice cream. And red wine.
(Not together … because that makes it OK, right?)
Wow, I was really the picture of health yesterday, wasn't I?
————-
So the enchiladas.
Two words: Make them.
They were incredibly tasty. They were the perfect blend of salty, spicy, and a little sweet.
And go ahead and make the homemade enchilada sauce. It was really easy and it made the entire dish!
Because I barely changed the recipe, I am going to send you directly to the original creator.
Jessica is always my go-to lady for amazing recipes. Anytime I make one of her recipes, I never change a thing because I know her recipe is probably going to be perfect as-is.
So just click on this link to see her original masterpiece!
I only did a couple of things differently, just because of the ingredients I had available …
1. I used ground chuck instead of lean ground beef (it was on sale!). So I ended up cooking my meat separately and adding it to the other ingredients after it was cooked, because I knew the chuck would have a lot of excess fat and water that I didn't want in the enchiladas.
2. I didn't use onion powder because I didn't have it and figured it wouldn't make a huge difference.
Make sure you give yourself a little time to make these. With all of the prep work, it took me about 90 minutes from start to finish (of course, I may just be slow!). But they were definitely worth it!
Question for ya …
Best thing you've eaten this week?
Do you tend to gravitate to certain foods when you're stressed?
Favorite Mexican food?