Before I get started with today's "What I Ate Wednesday," I had to share something pretty cool.
This week, I am the featured blogger on the BlogHer website!!
Just click on the link to go check it out. I was pretty excited to see my goofy face on another website!
Anywho ….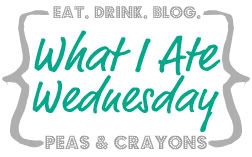 Let's jump in to another WIAW, hosted by the super-cool Jenn! And even cooler? This week I'm sharing a recipe that I found on Jenn's recipe page!
Breakfast:
The normal.
P.S. The hotel didn't have bananas one morning this week, and it nearly ruined my whole day. I'm such a drama queen.
Lunch:
I started with a delicious salad … organic romaine lettuce, organic broccolini, carrots, red onion, grated parmesan cheese, and a little Caesar dressing. I am LOVING Brianna's Asiago Caesar dressing. Yum!
I paired the salad with Muir Glen's Organic Creamy Tomato Soup.
I added a little cheddar cheese and red onion on top, and sliced up half of a whole-wheat tortilla for dipping. Very satisfying!
Snack:
I bought some organic yogurts last week at Whole Foods. These Stonyfield yogurts are really tasty! I also bought a chocolate one that was incredibly good!
Dinner:
Baked Potato Soup! This was made in my slow cooker and topped with a little cheddar cheese. I also threw a couple pieces of whole-wheat bread in the toaster, and topped them with a little butter and garlic powder.
Dessert:
I had a couple pieces of Dove chocolate. Use your imagination on that one.
—————-
And now, it's recipe time!!
You can find Jenn's original recipe here. I didn't change much, but I do want to give a couple of small tips along the way!
Baked Potato Soup
(Makes 4-6 servings)
Ingredients:
5 medium potatoes (I used Idaho "Norkotah"), peeled and chopped into small pieces
3 stalks organic celery, finely chopped
1 yellow onion, chopped
3 cups vegetable broth
3 cloves garlic, minced
1/4 cup butter
1 tsp pepper
1 tsp sea-salt
1/3 tsp garlic powder
1/4 tsp red pepper flakes
1/2 tsp dried dill
1/2 cup parmesan cheese, grated
1/2 cup cheddar cheese, grated
Directions:
Peel and chop your potatoes. (Tip #1: You can use a knife to peel them, but a peeler is way easier. If you have a good one, that is. Unlike the one you might find … let's say … in a hotel room. )
Chop the rest of your vegetables. (Tip #2: A sharp knife makes the job much more pleasant. And much faster. And less painful. Oh, how I love hotel living.)
Add potatoes, celery, onion, and garlic to your slow cooker. Then add the vegetable broth, butter, salt, and pepper. Stir it all together and let it cook (covered) for about 7-8 hours on low.
OK here's the interesting part. Jen said that if you want the soup to be really smooth, you should use a potato masher to mash everything up in the slow cooker. If you want it a little chunky, you should use a wooden spoon. I, however, did not have either. And trying to use a small metal fork or spoon to mash everything while it was still in the pot just wasn't happening. So I had to transfer portions of the soup to a large bowl and mash it that way, before returning it to the slow cooker. It took more time, but it did work. Just another tip, if you happen to find yourself in a kitchen with minimal tools.
After mashing your potatoes, add in the rest of your spices, followed by your cheese. Mix everything together.
You can then serve it right away, or let the flavors blend a little before serving. Depends on how impatient you are.
I served ours with just a little extra cheddar cheese on top, but green onion would also be delicious!
I really loved this soup. It may not look the prettiest, but it had delicious flavor!
Many thanks to Jenn for her awesome recipe, and all of her help coming up with veggie-based meals!
You really need to check out her recipe page … she has a ton of awesome ideas!
Question for ya …
Tell me something delicious you've eaten this week!
Unless it's frozen-yogurt. Please don't make me jealous, because I still have not gotten my fix!
Ever made a potato soup? If so, what kinds of toppings do you like to use in your soup?
Completely unrelated … any good TV shows you're watching right now? I need some new ideas!