On Monday, I told you all about our weekend in Nashville …
… except I left out a key event from the weekend. The half-marathon.
So today I'm going to talk about the race itself.
After another edition of WIAW, of course!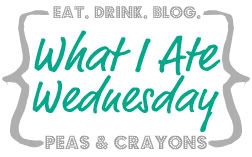 Breakfast:
I wonder if I'll ever actually get sick of the peanut butter + banana combination?
Snack:
Raspberry yogurt, strawberries, and Kashi Go Lean Crunch. A winning combination.
Lunch:
I was at one of my jobs during lunch, so I quickly scarfed down a peanut butter and jelly sandwich (made with Natalie's homemade jam … AH-MAZING). I also enjoyed some Love Grown granola that Chelsey had sent me. Thanks, Chelsey!
Snack:
Raw veggies with some light Ranch dressing.
Dinner:
Kale chips … if you haven't tried these before, you need to. Like, now. Even Brandon likes them. I'm going to post how I made them on Friday, so stay tuned! I also had a mini pizza made on a whole-wheat sandwich thin with tomato sauce, mozzarella cheese, broccoli, green pepper, onion, and banana peppers. Delicious, but eaten way too quickly!
Dessert:
More of that yummy dark chocolate with coconut. So good!
——————
OK, let's get to the good stuff. The race recap.
It was a tough one, folks! Not nearly as enjoyable as the Louisville half!
Let's start with the fact that I didn't get a very good night's sleep. I woke up around 3:30 am and couldn't fall back to sleep. So I stared at the clock until around 5am, and then rolled my sorry self out of bed to meet Ali in the hotel lobby.
The hotel was offering a shuttle service to the start line, but after 20 minutes of waiting in line for the shuttle, Ali and I made a game-time decision and decided to cab it instead. We shared a cab with two sisters who were planning on walking the race and just having a good time. Little did I know at that moment just how wise they were!
When we got to the park where the start line was, we were immediately greeted by 35,000 of our closest friends.
Yeah, there were a lot of people there. And (as always) not enough porta-potties!
Ali and I parked ourselves in corral 10 and waited for the gun to go off at 7:00.
Once it did, it was about 20 minutes before our corral even got to the starting line to start running. I can't imagine how long it took for those poor people in corral 35 to start moving!
For the first few miles, Ali and I chatted while running. The temperatures were still fairly cool, and the hills weren't affecting us at that point.
By about mile 6, we weren't feeling quite as chatty. The sun was blazing down on us. I felt like I was running on the sun. We also made the mistake of skipping a water station, which I will never do again!
Around mile 7 or 8 (I was delirious at that point so I could barely remember my name, much less what mile we were on), we consumed our GU Energy Gels and downed some water. Soon after, Ali started getting some stomach cramps so we walked for a couple of minutes before torturing ourselves running again.
At each water stop, I would drink two cups of water and throw another cup on my head. However, the relief from the heat would only last about 2 minutes before the sun would suck all the life out of me again.
By mile 11, Ali was feeling like she was going to pass out, while my entire body was screaming at me for mercy. So we started alternating between walking for a couple of minutes, and then running for a couple of minutes.
At mile 12, we were starting to feel hopeful that we had seen the worst of it and now smooth sailing was ahead. And then we came across another hill. Thanks a lot, race organizers. You couldn't have given us a break on that last mile??
Halfway through mile 12, we both started picking up the pace. We were dying, but at that point, we just wanted the race to be over. When we saw the finish line in sight, we both started sprinting.
Oh, the sweet relief of standing still.
Here are my final stats:
Participant Detail
Finished In: 02:15:25
Age: 28 | Gender: F
Overall: 7228 out of 22277
Division: 921 out of 3092
Gender: 3374 out of 14189
5 Km: 31:50
10 Km: 1:02:20
Pace: 10:20
Chip Time: 02:15:25
I really wanted to get a PR during this race, because I know I'm running faster than I was in November (my time was 2:12 then). But our 10 minutes or so of walking affected our overall pace time. Oh well. I'm just thankful that neither of us passed out, because we definitely saw a lot of people being treated by the medical team!
So for all of our our blood, sweat, and tears (mostly sweat), we each came away with one of these:
Worth it? Yeah, actually, I think it was.
So why do I think this race was so difficult? A few reasons:
1. I didn't carry my own water. I just relied on the water stations. And with the heat, I really needed more water.
2. The heat. It was hot, sunny, and there was very little shade on the course.
3. The hills. They weren't super steep, but they were constant.
4. The amount of people. I think Katie explained it best in her race recap post. There were a lot of people in general, and a lot of walkers at this race. And it was hard to swerve around all of them. It's mentally and physically challenging to find your "groove" when you keep having to slow down to get around someone.
5. Possibly a salt deficit? Ali and I got to talking to a guy after the race who does triathlons. He said he actually pops salt pills when he races, because if he loses too much salt from sweating, his body locks up. Hmm … that sounds exactly like what happened to me! Very interesting! You can read more about the need for salt in this article.
All that being said, I'm still so glad that I ran this race. I'm proud to say that I went from being a 100% complete NON-runner to running 4 races in a year. And I loved spending time with Ali and our other friends in Nashville. It was completely worth those 2 hours of pain.
Question for ya …
Ever experienced something so physically challenging, and yet so completely rewarding? Tell me about it!
If anyone else ran in Nashville this weekend, please share your experience!
What was the best thing you ate this week?
For me, it was probably the BBQ I had in Nashville. Soooo good!