Hey gang! How's the week treating everyone?
Mine is great, except for one thing:
Was I the only one to miss the memo that The Bachelorette started at 9:30 on Monday?
(Source)
Come on, ABC, don't you know that some of us are asleep by 9:30??
(And by "some of us," I mean myself and every woman over the age of 80 …
)
———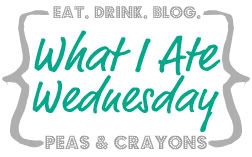 Breakfast:
I actually remembered to photograph my breakfast on Sunday. A warm waffle with peanut butter, banana, and sugar-free syrup. Yum!
After Church Snack:
On Sunday at church, the teenagers were selling popsicles to help fund their summer camp.
But these weren't just ordinary popsicles. They were King of Pops popsicles! King of Pops is an Atlanta food truck that sells gourmet popsicles. I've been wanting to try one of their frozen treats for a while now … and what better time than when the proceeds will be going to such a good cause?!
I'm sure it comes as no surprise that I chose the Chocolate-Sea Salt flavor. It tasted like a slightly salty Fudgsicle, and it was incredible. Completely worth spoiling my lunch over.
Lunch:
Leftover vegetarian chili. I had frozen a couple of containers when I made it, because I knew it would come in handy in the following weeks!
Snack:
Apple slices sprinkled with cinnamon, microwaved for 25 seconds, and then topped with organic vanilla yogurt.
Snack #2:
A little spicy guacamole from Whole Foods +
these delicious chips (also from Whole Foods). Brandon was a big fan of these chips, as well!
Dinner:
Spinach salad +
a microwaved sweet potato topped with guacamole and salsa. Served with a side of kale chips.
(The idea for topping a sweet potato with guacamole and salsa came from the amazing Jen. Love her and her genius ideas!
)
———
One more thing! You guys remember how my friend Jen shared a post about baking bread a while ago?
Well now she's talking about how to make homemade butter!! You gotta check it out by clicking on the link! Yum!!
Question for ya …
Anyone watch The Bachelorette on Monday? If so, don't tell me specifics because I want to watch it online! But what were your general thoughts?
Best thing you've eaten this week?
Which King of Pops flavor would you have selected?
Ever made your own butter??