Happy Wednesday, everyone!
Before I do my usual WIAW (hosted by Jenn), I wanted to get serious for a second. I just wanted to say "THANK YOU" again to all of the men and women who have served our country. And thank you to their families for their sacrifice. To be honest, I don't think I've taken the time in the past to really think about how all of this affects me and my life. But as I've gotten older, I've grown to be more appreciative and more thankful for my freedom. I am thankful for my eternal freedom through Jesus, and I am thankful for my daily freedom in this country.
So once again …
(Source)
——————
And now, another edition of …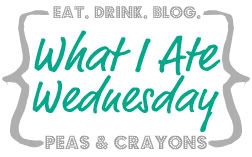 Breakfast:
Maybe now that we're finally moving into the new house, I'll have some new breakfast creations to share with you. Maybe.
Soon after Breakfast:
Grapes. Yum.
(Also delicious when frozen, if you've never tried that before!)
Lunch:
Roasted zucchini (I added a little olive oil, salt, and garlic powder and roasted in the toaster oven at about 400 degrees for 15 minutes or so)
+
I've seen several people talking about putting peanut butter on their sweet potatoes, so of course I had to try it. I microwaved my sweet potato, sliced it open, and added cinnamon and peanut butter. Being the peanut butter freak that I am, I loved it.
+
Sliced apple. Simple, but so good.
Snack:
Sweet potato tortilla chips (from Whole Foods) with guacamole.
Dinner:
So I've been making Panini sandwiches like it's my job recently. I'll be sharing all of my fun and delicious recipes on Friday's post, but I also decided to change things up one night and add some of the Panini ingredients to a pita. The result? One delicious chicken pesto pizza!
Ingredients:
1 pita or flatbread
Pesto
Fresh mozzarella cheese
Roasted red peppers (from a jar)
Chopped tomatoes
Pre-cooked chicken pieces
Parmesan cheese
I just smeared on the pesto, added the rest of the ingredients, and threw it under the broiler in the toaster oven for a few minutes. Such a nice change from my normal personal pizzas!
Dessert:
I tried another fro-yo shop!
This time I went to Froyolo. In my mix: cake batter yogurt, Reese's cups, Oreo pieces, butterscotch chips, brownie pieces, white chocolate syrup, and caramel syrup.
Froyolo Pros:
- Nice people working there
- Got a 20% discount because I'm a member of Lifetime Fitness
- They were playing Christian music!
Cons:
- I didn't love the frozen yogurt itself. I couldn't really taste the cake batter flavor.
I'd definitely try Froyolo again, especially because I get a discount! But I might try a different flavor next time.
——————
POTENTIAL BACHELORETTE SPOILERS AHEAD!
And finally let's talk:
Just a few thoughts from Monday's episode …
1. Ryan. Oh, foolish foolish Ryan.
Never tell a girl that you'd "love on her less" if she gained weight after you guys got married. And especially don't tell her that in front of her girlfriends! Sigh. You have so much to learn.
2. When a woman is saying "Sweetheart" and "Bless your heart" to a man …
… you know she has no romantic interest in him whatsoever.
3. Jef is my current favorite.
A lot of you would probably disagree, but I was also the girl routing for Jesse …
… from Day 1 of Deanna's season.
(Source)
(Source for Current Bachelorette Pictures)
Question for ya …
If you're watching this season of The Bachelorette, who is your current favorite?
Best thing you've eaten this week?
Sweet potato with peanut butter: good idea or just plain weird?
(If you think that's weird, I saw someone at the gym eating grilled chicken dipped in peanut butter the other day!
)