Happy Wednesday, friends!
Before I share my "What I Ate Wednesday" post for the week, I wanted to clear something up. I got my first ever "Is that all you ate?!" comment last week after sharing my WIAW eats. So I want to make sure that everyone realizes that I don't post about every bite of food that enters my mouth on a given day. In my mind, WIAW posts aren't about the quantity of food that someone eats. Instead, they are a way of sharing recipes and product ideas with each other.
For example, I would have never tried "Oats in a Jar" or
kale chips
if I hadn't read about those ideas on other bloggers' websites. WIAW is
Jen's
way of bringing food lovers together so that we can share our great food discoveries. But how
boring
would it be to read about how I went back for a second or third bowl of soup one night? Would you
really
want to see the same picture of soup posted three times in a row? My guess is no, which is why I don't show it.
Whew, OK, so now that that's cleared up ….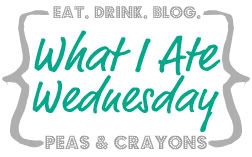 Breakfast:
My usual.
I'm sorry guys, I know you get bored with my breakfast pics, but I just can't get enough of this combination!
Post-church snack:
Remember how I posted last week about our church kids selling King of Pops popsicles?
Welp, they were selling them again this week!
I wasn't going to get one, but Brandon couldn't decide between the Arnold Palmer (Arnold Palmer is a drink that combines sweet tea and lemonade, for those who haven't heard of it!) and the Orange Creamsicle, so we decided to get both. They were both delicious, but I quickly called dibs on the Orange Creamsicle. It was creamy with just a subtle orange flavor, and it was almost as delicious as the Chocolate Sea Salt flavor I tried last week. Almost.
Lunch:
As a way to convince Brandon that furniture shopping would be fun, I told him we could stop at Chipotle prior to Rooms To Go.
I had their vegetarian burrito bowl with cilantro-lime rice, fajita green peppers and onions, black beans, corn salsa, mild salsa, guacamole, and lettuce. It was amazing and incredibly filling!
Snack #1:
Anyone try these almonds yet?? Brandon doesn't like them, but I think they're delicious. If you like using lots of wasabi and soy sauce when you eat sushi, I think you'll like these.
Snack #2:
Organic vanilla yogurt, topped with the strawberries and granola we got from the farmers' market. Ah-mazing.
Dinner:
A flatbread pizza, topped with a mix of BBQ sauce and tomato sauce, cooked chicken, black beans, and cheddar + mozzarella cheese.
Dessert:
I found this frozen yogurt at Walmart, and it was super cheap at only about $3.50 for the gallon. People, you need to try it. It tastes exactly like full-fat ice cream. I would have never guessed that it was frozen yogurt. And Brandon loves it, too, which is a sure sign that it doesn't taste lower fat.
Question for ya …
Tell me the best thing you've eaten this week!
Any fun food products that I should be trying?
Which do you think you would have preferred … Arnold Palmer or Orange Creamsicle?