Well it's Wednesday again. And it's the end of another month. How did that happen?!
Before I talk about "Big Brother," it's Wednesday, so that means …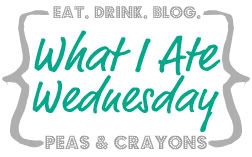 Breakfast:
I almost feel like I should lie and tell you that I ate something different, but since I don't want to lie …
Snack at Work:
This granola bar + a juicy plum.
Lunch:
Lunch SHOULD have been this:
Leftover chili, which I made in the crockpot on Sunday. So. good. Recipe to come later this week!
But I ended up forgetting my lunch at home today!
So instead, I had this:
Half of a tomato and mozzarella panini and lemon chicken orzo soup from Panera.
Dinner:
Salad with mustard vinaigrette (whole grain mustard, red wine vinegar, extra-virgin olive oil, salt and pepper)
+
The chili I was planning on having for lunch!
Evening snack:
—————————————————————————-
And now, let's talk about "Big Brother."
Oh, my. The drama. The heartache. The tears.
And that was just in my living room!
So first of all, Thursday was just a rollercoaster of emotions.
First, I was so excited that Daniele was evicted!
But then it ended up being a double eviction night. Poor Jordan tried her best …
… but Kalia managed to guess her way to another win.
And before you even had the chance to take a bathroom break, Jeff was out the door.
And all of this happened because "Sketchy Shelley" decided to go against her alliance.
I know it's a game, and it probably was a smarter game move to get rid of Jeff … but could Shelley at least "man-up" and be honest?! Could she just stop pointing the finger for two seconds and tell the truth?!
For goodness sake … could she at least stop crying and pretending that she's the victim????
Sheesh.
So now it's the whole house against Rachel and Jordan.
The good news is, when greedy-girl Porche decided to open Pandora's Box, it brought a new "twist" into the game. For just this week, the houseguests are back to competing in pairs!
So fingers crossed that either Rachel or Jordan wins the Veto, so they can pull themselves off the block!!
Really, the only person that I want to win at this point is Jordan. But Rachel has actually surprised me recently and seems to have calmed down quite a bit. Who knew that she could act like a normal human being?! If she keeps this up, I wouldn't mind if she won either!
Question for ya …
Tell me something tasty that you've eaten today!
If you watch "Big Brother", what are your thoughts? Who do you want to see win?